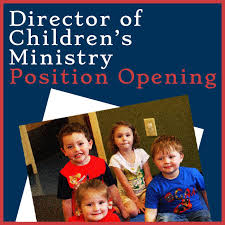 The Children's Ministry Director is a vital role for our church. We are looking for someone to take over the position ASAP. It is a paid, 1/4 time staff role for our church and involves approximately 8-10 hours a week. Our desire is to see this position continue to grow as the ministry grows!

The Children's Ministry Director would be expected to meet weekly with the rest of the staff, lead the Nursery and Sunday School volunteers, and aid in the planning of family/children's ministry events such as the fall picnic and the Easter egg hunt. Additional duties include administrative tasks such as ordering curriculum, helping to craft a budget for children's ministry, and overseeing classroom and check-in setup on Sunday mornings. Ultimately we would like to find someone who can help us create a vision for the future! Our church continues to grow, and with around 50 children from nursery through fifth grade almost every week, we need someone with a heart for Jesus and His affection for all the "little ones."
If you are interested in being considered for this opportunity, you can contact me at fr.fitz@yahoo.com. I would love to give you more details and a full job description. Will each of you pray that God would fill this position with His appointed person, and continue to pray for all of our children?
Thank you everyone. Peace and Blessings in Christ,

Joey