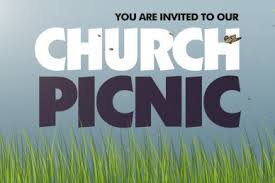 UPDATED UPDATE TO PREVIOUS UPDATE: Due to the expected weather overnight Saturday into Sunday afternoon, the Annual Church Picnic will be postponed until the following week, Sunday, October 27th, immediately following the 10:10 church service.
Potential Tropical Cyclone 16, which could become Tropical Storm Nestor (a name of Greek derivation which roughly translates as 'go back one who returns from travels'). will blow through northeast N. Carolina this weekend, spoiling Sunday's chances for a delightful autumn picnic day. Keep your cornhole tossing arm warmed up until next weekend. We'll see you for church on the 20th, and at church and the picnic on the 27th.
UPDATE: We're watching the weather. It's too early to predict. We'll keep the church community updated as this storm system in the Gulf develops. Stay tuned!!!
The Annual Church Picnic is set for October 20th following the 10:10 service. We will meet at 12 noon, at Nags Head Town Park, at the west end of Barnes Street, where it becomes Health Center Drive.
Attractions for kids of all ages will include a bouncy house and yard games. There will be a cornhole tournament with a random bracket sign up when you arrive.
Hot dogs and and pork barbecue will be provided by the church.
Please bring a side dish— salads, fruit, or dessert and/or snack food (chips and dip, salsa, etc). Drinks will be provided.